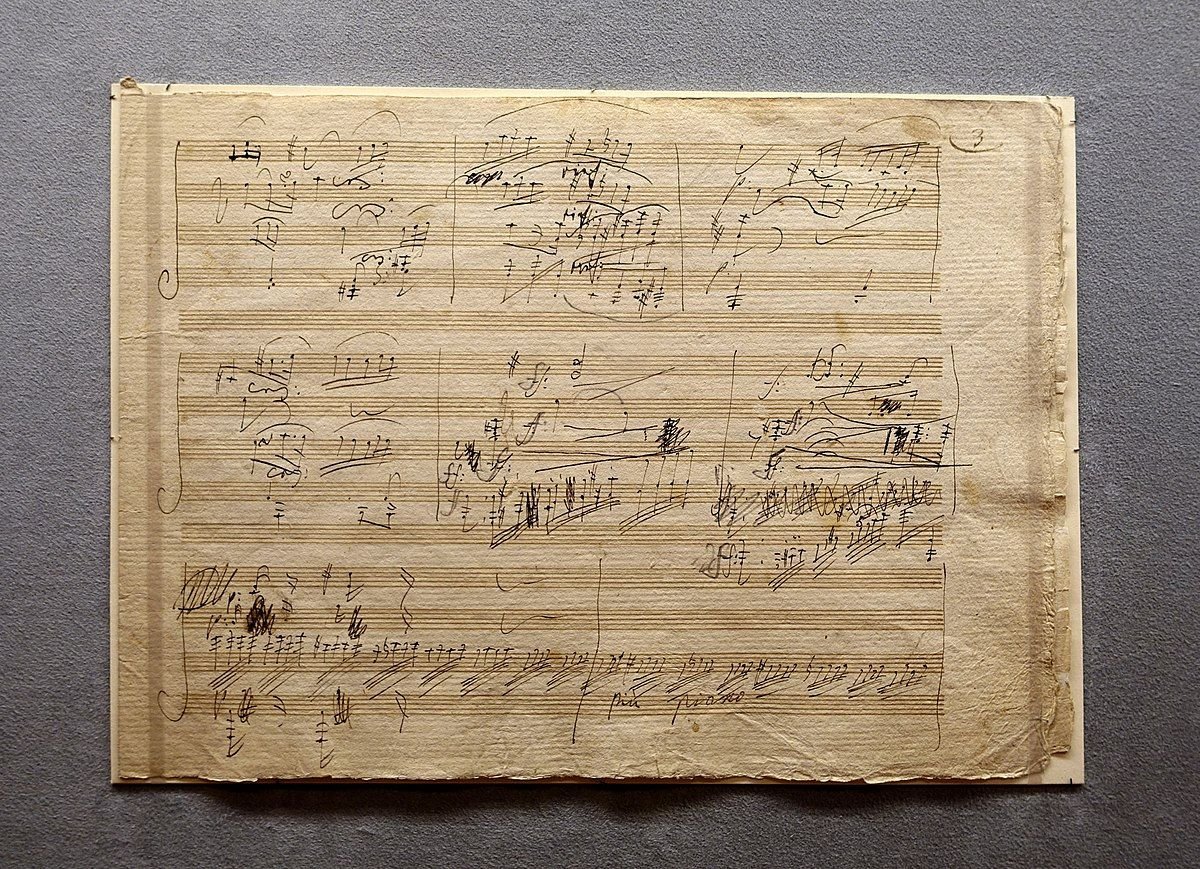 A Joint Celebration: The Complete Beethoven Piano Trios |
15 October, 1–6pm | David Josefowitz Hall, Royal Academy of Music

The Piano Trio Society is delighted to have been asked to share the forthcoming 30th annicersary celebrations of the Beethoven Piano Society of Europe (BPSE). The complete Beethoven piano trios will be performed during the day and will include a talk by the renowned broadcaster David Owen Norris. Join us for an afternoon of excellent chamber music and stimulating discussions. Full details below.
The Paddington Trio
Tuulia Hero (violin); Patrick Moriarty (cello); Stephanie Tang (piano)
Op.11 in B flat major
Op.1 No.3 in C minor
Trio of London
Elisabeth Perry (violin); Melissa Phelps (cello); Julian Jacobson (piano)
Op.1 No. 2 in G major
Allegretto WoO 39
Op. 70 No. 2 in Eb major
Interval followed by a talk by David Owen Norris
Fidelio Trio
Darragh Morgan (violin); Tim Gill (cello); Mary Dullea (piano)
Op. 1 No. 1 Eb major
Op. 70 No. 1 in D major "Ghost"
Op. 97 in B flat major "Archduke"
Book your place at https://beethoven-piano-trios.eventbrite.co.uk/
Online bookings only. General Admission £40 | BPSE, PTS, EPTA & ISM members £35 | Student £15
All tickets include a complimentary glass of wine at the end of the event.
Ticket holders are welcome to come along for the full day or for parts of the event.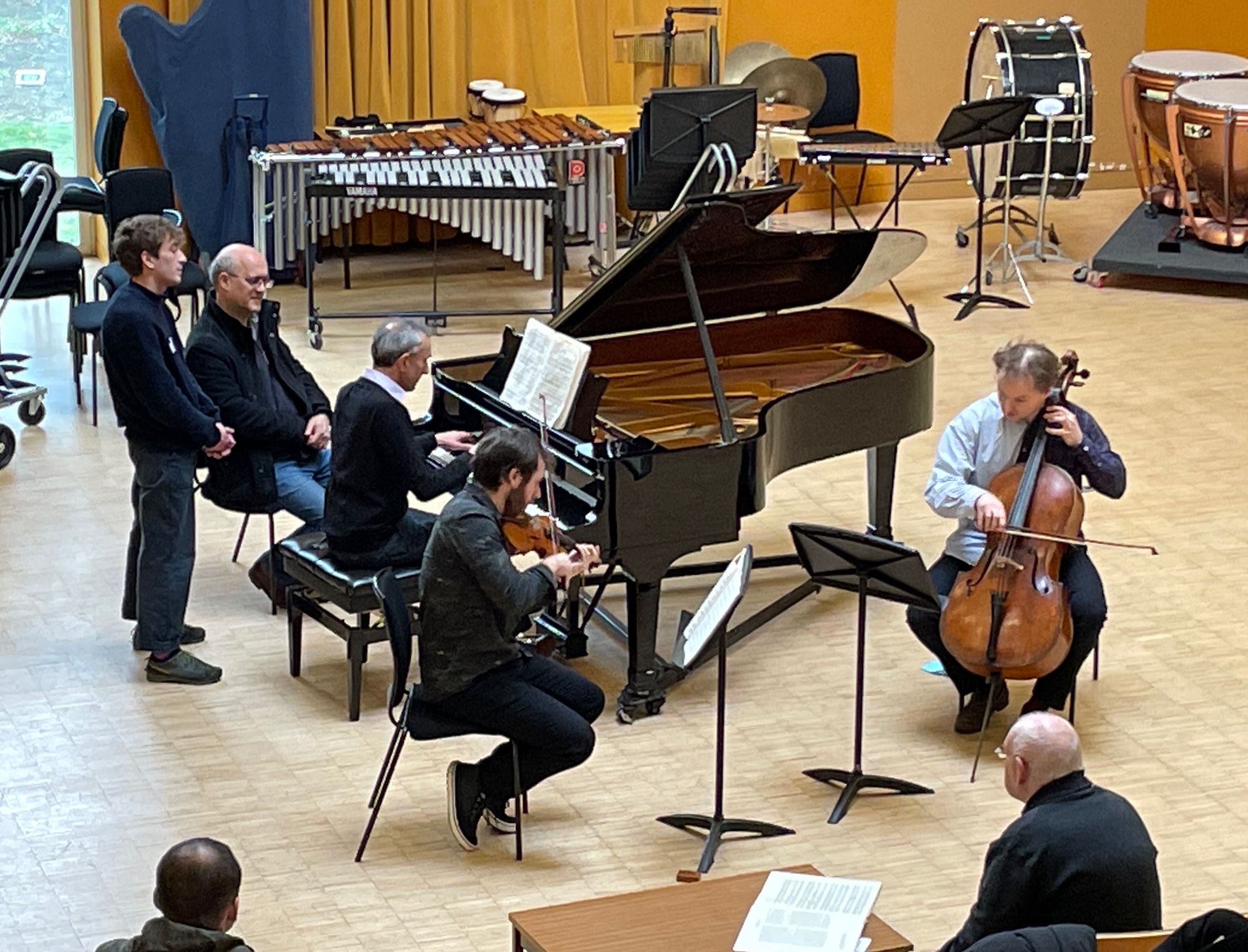 Piano Trio Day | 5 March | Clarendon Muse, Watford

A day of masterclasses for student piano trios with three distinguished tutors: renowned violinist, teacher & chamber musician Michael Bochmann MBE; cellist of the Benard Roberts Piano Trio & the Coull Quartet Nicholas Roberts; pianist with the Barbican Piano Trio & professor at academies in UK & in Russia James Kirby.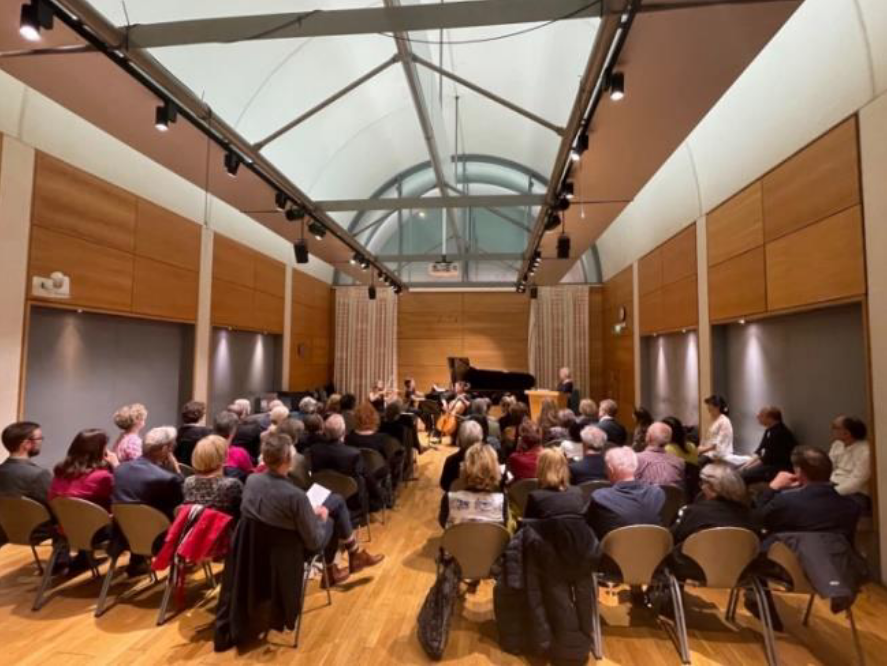 Book launch of "Past Sounds" | 30 October | David Josefowitz Hall, Royal Academy of Music

The Piano Trio Society was delighted to co-host the talk-recital given by author Gillian Perrin introducint her new book with musical demonstrations by the young Astatine Trio.

Visit Gillian's website (https://gillianmargaretperrin.ampbk.com/).
Piano Trio Competitions
Our two Intercollegiate Piano Trio Competitions catered for the Junior Departments as well as the Senior Colleges. Both took place at the Henry Wood Room at the Royal Academy of Music with the Senior Competition on 24 April and the Junior Competition on 3 July. There were six entries for the Senior Competition and three for the Junior Competition, although sadly the entry from the Royal Academy of Music had to withdraw at the last minute when the pianist contracted Covid. We thank all the participants who took part and also their teachers. We are extremely grateful to the members of the Jury for their huge contribution to these events. A special thank you to our Vice President, composer and pianist Howard Blake OBE, FRAM, who sponsored the competitions and presented the prizes. We were pleased to include two movements from one of his trios as the set work for the Junior Competition.
Senior Intercollegiate Piano Trio Competition
Jury: Chair Raphael Wallfisch, Anthony Marwood and Tom Poster
1st Prize: Hamie Blachuta Trio - Royal College of Music
2nd Prize: Paddington Trio - Guildhall School of Music and Drama
3rd Prize: New Elements Trio - Royal Birmingham Conservatoire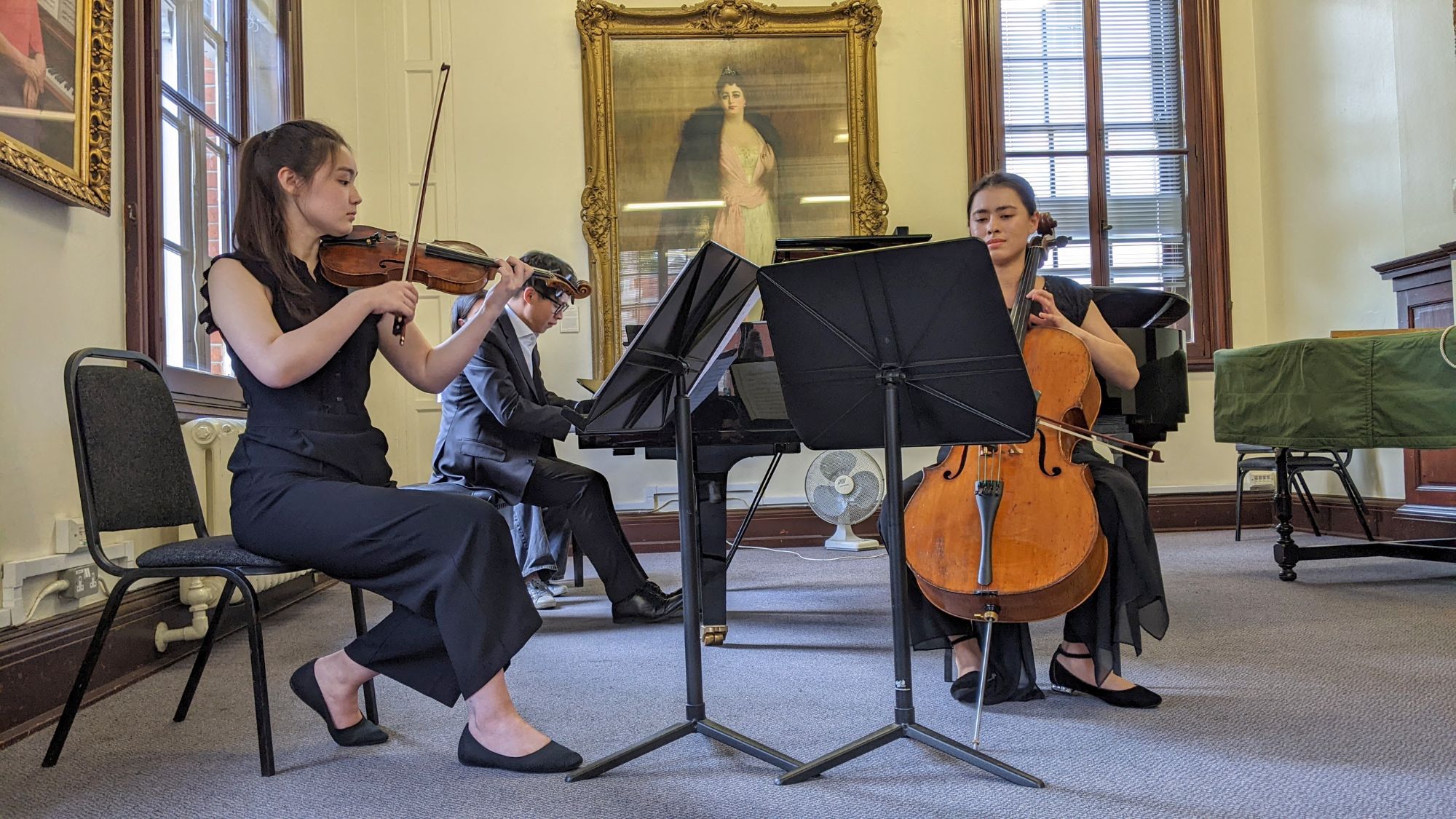 Junior Intercollegiate Piano Trio Competition | 3 July | Henry Wood Room, Royal Academby of Music
Jury: Chair Melvyn Cooper, Rita Manning and Pal Banda
1st Prize: Royal College of Music
2nd Prize: Royal Welsh College of Music and Drama
Piano Trio Day | 7 November | Clarendon Muse, Watford
This popular event took place on Sunday 7 November with a full day of coaching offered to the trios taking part. The event was held at Clarendon Muse, Watford School for Boys starting at 10.00am with distinguished tutors Susie Mészáros, Julian Jacobson and Richard Lester. Trios taking part included the Cobalt Trio from the Royal Academy of Music, Paddington Trio from the Guildhall School of Music and Drama, New Elements Piano Trio from the Royal Birmingham Conservatoire and the Shelbow Trio from the Royal College of Music. Beethoven Piano Trio Op 70 no 1 proved a popular choice and Schubert Sonatensatz D28, Brahms Piano Trio Op 87 no 2 and Shostkovich Piano Trio no 2 also were included in the coaching programme.
Annual General Meeting | 15 February | Zoom
The following Trustees were confirmed: Chairman - Jane Faulkner, Vice Chair - Melvyn Cooper, Administrator/Treasurer - Christine Talbot-Cooper, remaining Trustees - Christopher Brammeld, Bobby Chen, Dr Mary Dullea and Dr James Obelkevich. We are delighted to announce the appointment of the following Vice Presidents: Michael Bochmann MBE, David Owen Norris and Robert Max who join Howard Blake OBE, FRAM and Christine Talbot-Cooper. The President of the Society is Peter Frankl. We welcome new member radiologist Professor Dr Eamann Breatnach from Dublin who is also an amateur pianist and plays piano trios with two retired professional musicians. We are always pleased to hear from keen amateurs taking part in playing piano trios!